What Does a Bluetooth Vanity Mirror Do?
|
16, Jul, 21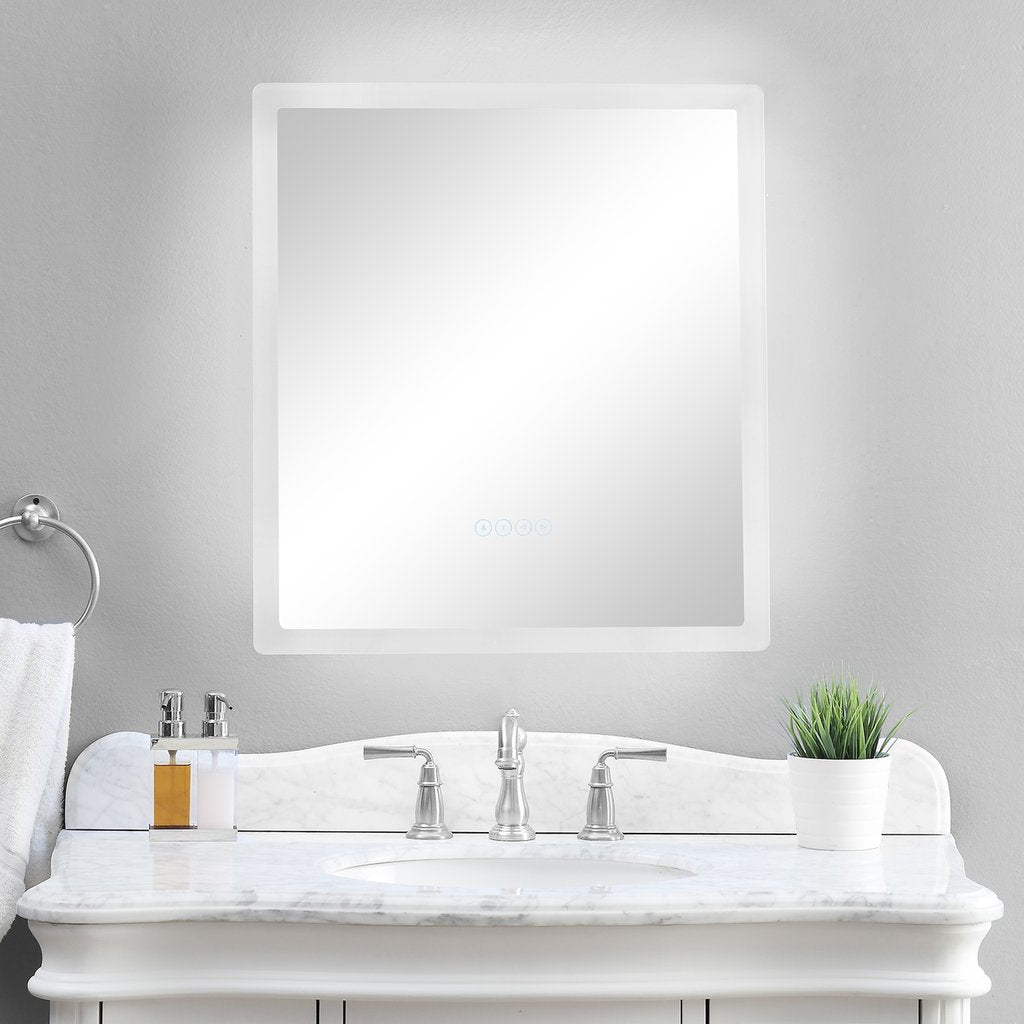 Finding the right mirror can make or break the overall look and feel of your bathroom sanctuary. Apart from their obvious function, mirrors are accent pieces that liven up bathroom spaces by creating the illusion of a larger space and enhancing the lighting. Bathroom mirrors have continued to evolve, from the earliest styles made from obsidian stones, to bluetooth mirrors which are as enchanting as they are modern chic. 
What are Bluetooth Mirrors?
Bluetooth mirrors, as the name implies, are mirrors that have been integrated with bluetooth functions. They utilize short-range wireless connection between the mirror and an external device, such as phones and computers. This allows a safe, cableless connection for playing music, podcasts and other audio files directly from the devices without the risk of having the devices in the bathroom or the inconvenience of  buying and connecting a full sound system. Bluetooth vanity mirrors, with their built-in stereo speakers, give a  facelift to bathroom vanities and remove the cost and burden of installing a separate audio system. 
LED bluetooth mirror (Photo: Eisen Home)
Features of a Bluetooth Vanity Mirror
Without its accessories, a bluetooth vanity mirror will be just another plain mirror. The features of bluetooth vanity mirrors vary from brand to brand and some of them include LED lights, built-in outlets for plugs for bathroom appliances like hair dryer and shaver, demister pads that keeps the mirror from fogging, a digital clock, light controls and a microphone for taking phone calls. 
How does a bluetooth vanity mirror work?
The bluetooth mirror uses simple touch buttons to transform what would have been an everyday mirror to a stereo system. To access its functions, the bluetooth connection on the mirror and external device have to be turned on and paired. The pairing is done by searching for the mirror on the gadget and selecting the mirror from your smart device's  list of discoverable devices. Once the connection is made, you are all set and it is left for you to decide on what you want to listen to while taking a soak or getting ready. Most bluetooth vanity mirrors function within a distance of 100-feet from the bluetooth-enabled smart device. 
Caring for Bluetooth Mirrors
Mirrors are generally fragile items and with the addition of enhanced functionality, naturally comes the need for extra care. To truly enjoy the freedom and elegance that a bluetooth vanity mirror affords, it must be cared for from the point of installation. Bluetooth mirrors should be mounted against straight, dry and clean wall surfaces with particular attention paid to affixing the screws to secure them in position. Specific product instructions must be strictly adhered to, if you must get the best out of your bluetooth mirror. Routine cleaning should be done using soft, damp clothes with no solvents or abrasives. 
Benefits of a Bluetooth Vanity Mirror 
The promise of premium sound production and glow from LED backlights are enough to make bluetooth bathroom mirrors desirable, but before making the decision to throw out your old mirror for the new trend, it is important to fully understand its features. Below are some reasons bluetooth vanity mirrors are appealing:
Space-saving - Vanity mirrors with LED lights and bluetooth features require no docking station, as there is no need to have your phones and laptop right beside the mirror.  This leaves you with extra countertop space for placing other items such as decorative pieces, makeup products and picture frames.
Improved esthetics – LED vanity mirrors with bluetooth have built-in LED lights that use little power to give off a luminescent glow without compromising the mirror's reflectivity.
Extra Functions – Some bluetooth vanity mirrors have multiple extra features that enhance user experience. These features include controls for regulating intensity of light, variations of light colors and a timer for lights.
Value Boost – House flippers know that one high-end fixture may be all it takes to substantially increase the value of a house. Bluetooth vanity mirrors, if added to a property, can substantially increase the market value of a home.  
Improved Lighting - A LED bluetooth mirror gives you the option to select the perfect light color and brightness for you. LED lights are similar to natural light, allowing you to reflect your true skin tone as you wear your makeup and also proves a healthier alternative for your eyes.
Improves Mood - Having a mirror that lets you listen to your music or your favorite podcast while you use the bathroom lightens your mood and makes you look forward to getting ready for the day. Now you can have those bathroom singing sessions without fear of water splashing on your phone.
Fog-free – Most bluetooth mirrors have built-in demister pads that prevent your mirror from fogging. With a bluetooth mirror, you do not have to worry about wiping down the mirror every time you take a hot bath. 
Should you Invest in a Bluetooth Mirror?
As with the luxury space in general, there may be skepticism surrounding bluetooth mirrors, but one thing is undeniable - vanity mirrors with lights and bluetooth come with extra value and experience.