Stunning Island Kitchen Layouts
|
09, Nov, 21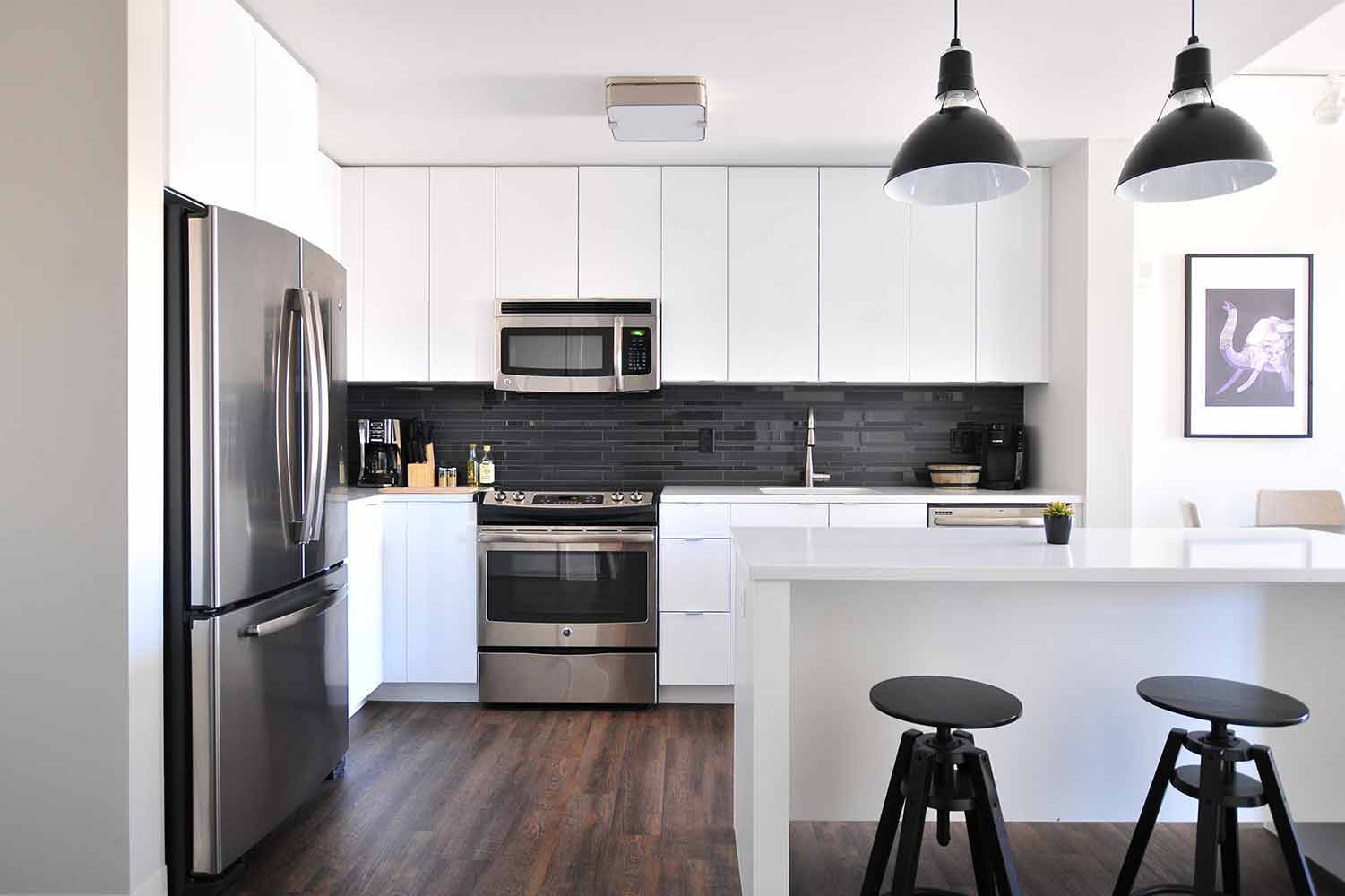 Kitchen layouts can make or break a kitchen. It's key to do your research, so that you design it cleverly and utilize the floor space to the fullest. A very popular trend for modern designed kitchens is to add a kitchen island. This can save on space as there does not need to be a separate dining room anymore. You can simply hide the barstools underneath the island instead. These 5 stunning island kitchen layouts will help you to envision your dream kitchen renovation. 
5 Stunning Island Kitchen Layouts
There are dozens of kitchen designs and stunning island kitchen layouts, so let's look at some of the most amazing island kitchen layouts for your consideration.
1. Black Granite and Wood Kitchen Island Layout
This is a modern and sleek kitchen island style that pairs the textures of the wood grain against granite. These two distinct textures complement each other to create a modern and extraordinary kitchen. Do proper research with this design to ensure you get the elements to work together naturally. We'd also recommend working directly with a designer to make sure you are on the right track. If granite is out of your budget, you can opt for laminate countertops as they also come in a wide range of patterns that closely resemble granite. 
With materials like granite and wood, the secret is to ensure that the other elements included in the space complement each other. For instance, to give this layout a  modern twist, add exquisite hanging lights to emphasize the sleek and modern look. Additionally, you can use glass and mirrors to create the illusion of space. Sunken stainless-steel sinks are very popular especially when paired with an industrial style faucet. You can check out the sleek and modern kitchen faucet designs available in the Eisen Home collection to complete the look. With this layout, consider centering your stovetop on the island as it will give you more counter space to work with. Lastly, bring all the elements together, consider vintage cabinet doors and simple yet black barstools to finish off the design.
2. Green and White Marble Island Kitchen Layout Design
Often people tend to stay clear of black or colors that are too dark, but often white is too simplistic. When you bring in subtle colors such as a pale green or any other light pastel color and pair it with white, you can create a whole different atmosphere. Remember to keep it to an 80/20 rule so that the main color remains white and airy. 
With this style layout, consider adding a breakfast nook to give it a charming feel. While marble is mainly used for countertops, you can also use it along the walls as a marble backsplash. Install a stainless steel kitchen hood to create an industrial and contemporary look and use glass cabinet doors to create the illusion of space. 
For décor you can use mason jars to create a farmhouse vibe and pair its natural wood designs or other modern art to give it a contemporary edge. A wooden or stainless-steel hanging rack will save even more space. This is the perfect opportunity to create a unique kitchen island that has retro charm with a modern twist.   
3. U-Shaped Kitchen Island Layout
This is the best island kitchen layout for you if you have limited space available. The countertops should integrate with the kitchen island to create a u-shaped counter. Waterfall countertops work wonders for this style. They allow for additional storage space while also concealing less attractive elements such as electrical outlet. The waterfall countertop style allows for enough space to tuck away bar stools and chairs as well, making it highly space efficient. This design is the best if you have enough kitchen space to install three countertop sections which will add more storage and space for food prep.
4. Contemporary Kitchen Island Design
If you have wood flooring, use it to your advantage in creating a contemporary u-shaped dark wood floor. This sets the tone for a charming farmhouse effect. Combine with a deep farmhouse style sink with sleek faucet, white or even lighter wooden cabinets, quartzite countertops, stainless steel appliances and the layout of your kitchen island will come together through elegant design. You can add a splash of color, like grey or the color of your choice to add a bit of flair, along with a beautiful hanging chandelier to elevate your dining space.
5. Smart Storage Island Kitchen Layout
Kitchen island designs often require using the floor space and storage wisely in order to fit everything in neatly while still giving off an inviting and modern appeal. Consider roll-out shelves and drawers to maximize the space available. Another way to create the illusion of more space is with high ceilings, exposed beams, and vintage flooring. 
Other elements worth considering for this style layout include large windows or even a skylight to add a dramatic effect and produce a clean, minimalistic feel. Raw materials will fit in nicely into this design especially when complemented with brushed metal features, aluminum framed doors, stainless steel hardware and appliances and glazed tiles. 
For more information on how to accentuate your stunning island kitchen layout, visit Eisen Home.