Inspiring Spa Bathroom Ideas
|
22, Nov, 21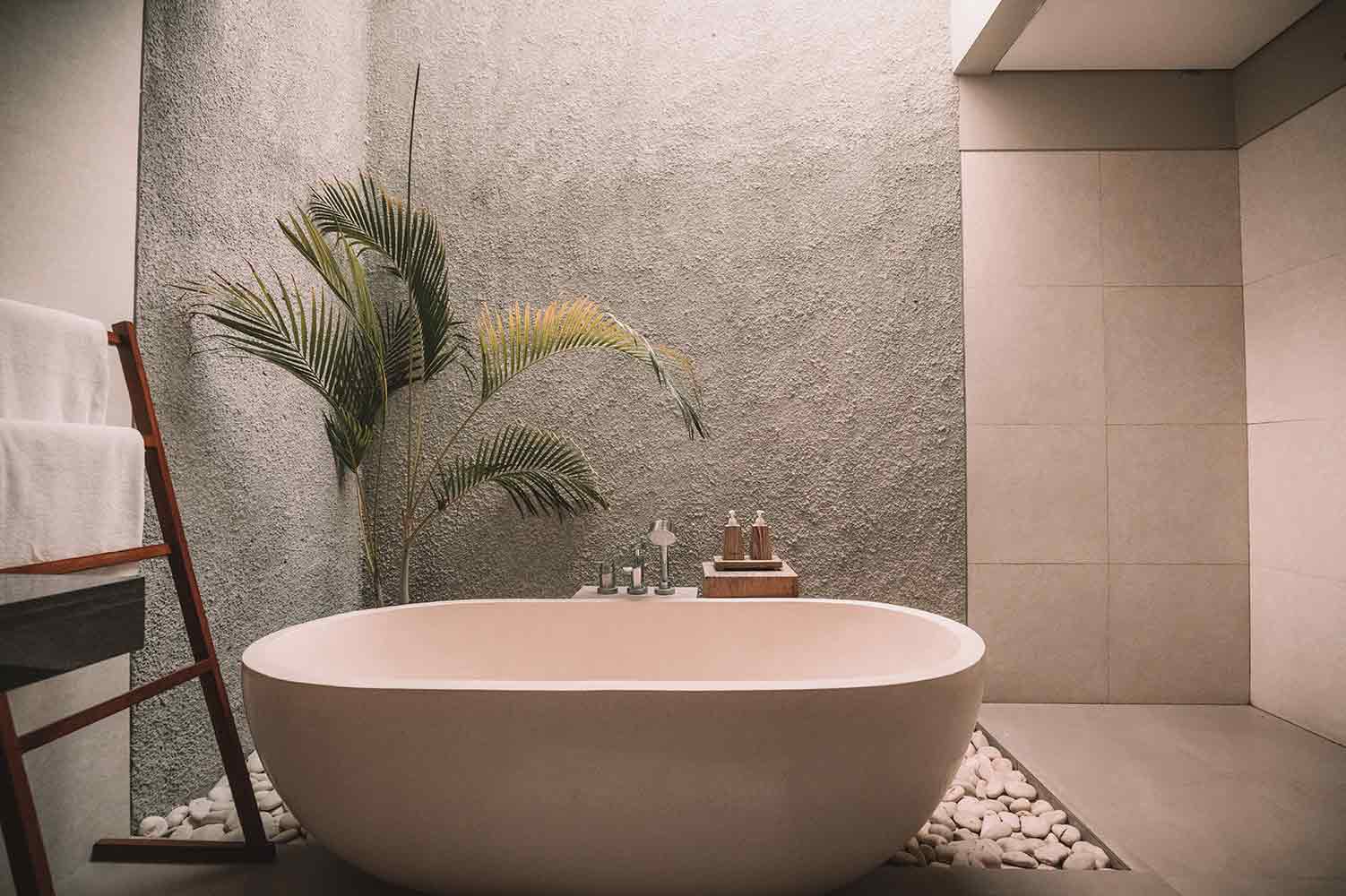 A bathroom not only adds value to your home, but also to your personal wellbeing. These days a luxury spa-style bathroom is very popular as you can enjoy this experience within the privacy of your own home. Let's look at some inspiring spa bathroom ideas that you can invest in to add to the ambiance of your bathroom.
Inspiring Spa Bathroom Ideas
1. Lighting
One of the first things to set a romantic feel, is to add candles. It will not only add to the décor and complement your color scheme, but will create a calm, peaceful atmosphere in which you can indulge the senses, especially if they are scented!
You can also install stylish lamps, pendant lighting or a dimmer so you have more lighting options as well. Make sure to dim the lights to ensure a relaxed and tranquil ambiance. If it is possible to have natural light streaming in through the windows next to the bath, it will add to the serenity. 
2. Water Features
Add a water feature to your spa bathroom to further enhance the peaceful, soothing atmosphere. There is a wide array of small water features to choose from to ensure your serenity but the most functional is a waterfall tub faucet.
3. Minimalism
A spa-like bathroom must be kept clutter-freed. This not only gives you space, but also creates an opportunity for your body, mind, and spirit to unwind. Ensure there are enough cabinets, shelves, and drawers to neatly stow away everything so that it is out of sight, out of mind. This includes your toiletries; there should be a neat space to put away toilet paper rolls, towels, toothbrushes etc. 
Keeping everything tidy and organized will add to the calmness of your spa-experience. Installing a double bathroom vanity with wood-grain finishing can be a great way to store all of the necessities. 
4. Luxury
Renovating your bathroom is the best opportunity to invest in a few luxuries that will help you create your dream spa oasis. Freestanding tubs are not only a statement piece, but also give you the opportunity for a soothing soak daily. If you opt for a large soaking tub, you can even share a spa-experience with your partner. Consider adding a spacious walk-in shower with multiple shower heads and ensure that the shower heads have multiple massage settings to help you unwind. Lastly, if you are feeling bold, consider adding a sauna for the full spa effect.
5. Décor
By adding a stylish vase with fragrant fresh flowers, plants, a sculpture, or an exquisite painting, your spa bathroom can become a place of higher thinking, beauty and art. Pair this with soft, fluffy towels, rugs, calming plants and hanging ferns to add to the aesthetics.
6. Reflection
There is a world full of mirrors to choose from, coming in all shapes and sizes to add to your spa-feel. By having one or two large mirrors, it can also help to make the bathroom appear larger, so keep that in mind when deciding. Some mirrors even include LED lights and Bluetooth functionality. While some people prefer absolute quietness, others may opt for soft, calming music. For instance, the Eisen Home bluetooth mirror features built-in speakers for balanced sound and LED lights that dim without compromising the reflectivity of the mirror. 
7. Classic Sleek Style
By including a freestanding tub, spacious walk-in shower, sleek vanity and modern bathroom faucet, you continue to build on the classic, stylish feeling that most spa bathrooms possess. If you think about spas, they usually stick to natural color schemes and avoid patterns and bright colors. This contributes to a sense of calmness.
8. Tiles and Flooring
Large open windows, plants and natural tones will look stunning against natural stone flooring and tiles to carry this feel throughout the whole bathroom. You can also opt for wooden walls and flooring as well. Consider adding floating shelves to naturally stack colored towels, candles, live plants, aromatic candles, and décor that will add to the natural feel of your spa bathroom.
Your Home Spa
These inspiring spa bathroom ideas will motivate you to create a dreamy bathroom where you can feel pampered and enjoy the luxury of a spa from the comfort of your home.