Benefits of Pull-Down Kitchen Faucets
|
15, Jul, 21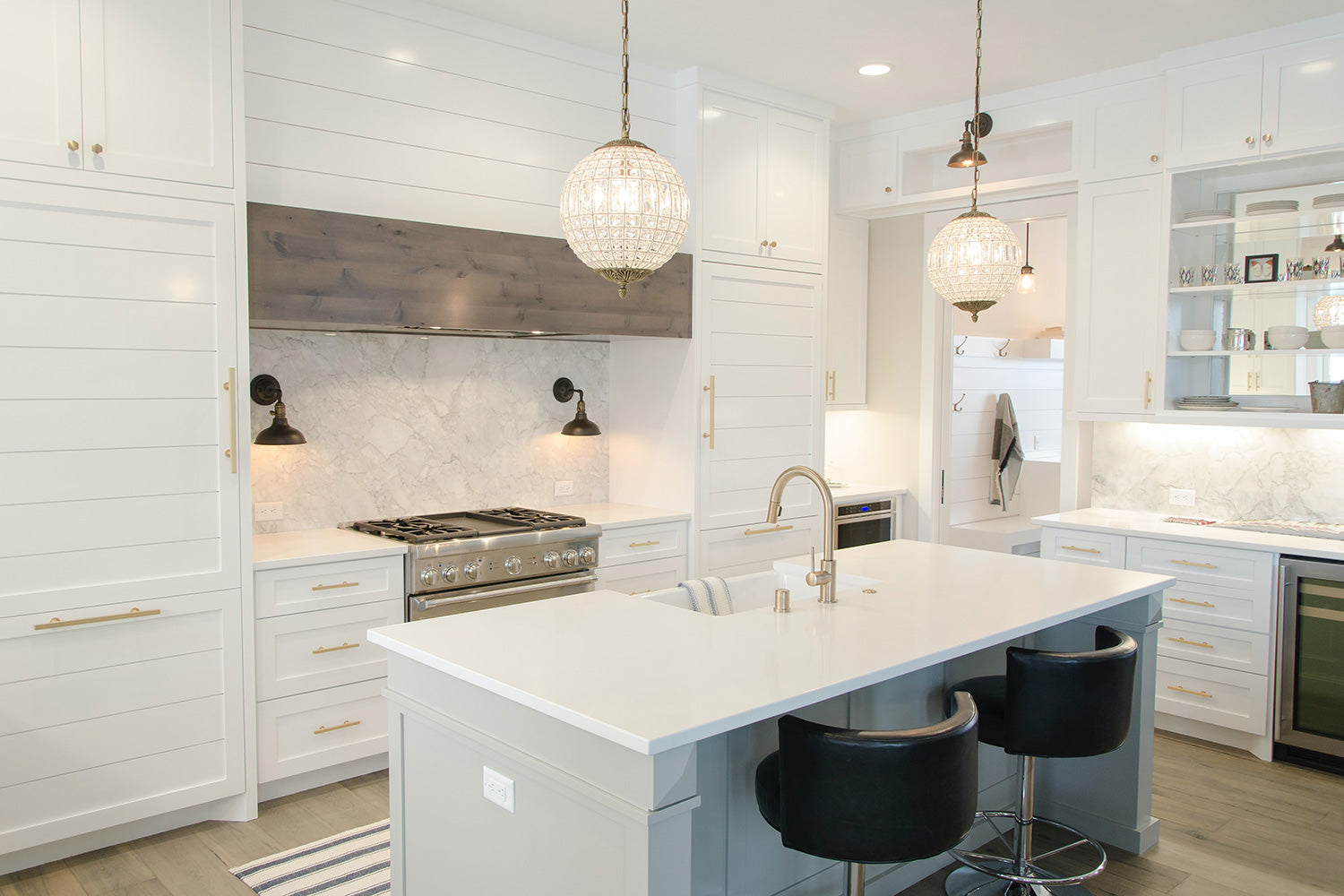 The kitchen is a place you bring together family and friends over a good meal. It's also a place where dishes can stack up quickly if you cook often and tend to have people over frequently. While there are a wide array of kitchen faucet styles available including widespread, single handle, wall mounted, commercial, bridge and touchless, the pull-down style is easily the most versatile and if you spend a lot of time in the kitchen, essential. 
Photo: Unsplash
What is a Pull-Down Kitchen Faucet?
This style faucet fixture has a built-in hose that allows you to bring the sprayer closer down to the dish and wash with more precision. Generally speaking, pull-down kitchen faucets are characterized by a high gooseneck arc which gives them a modern, aesthetic appeal. They also feature a counterweight through the neck of the faucet which helps the sprayer to retract back into place once it's no longer needed. 
3 Main Benefits of Pull-Down Kitchen Faucets
Height
The tall height of pull-down kitchen faucets makes it easier than ever to accommodate a large stack of dishes, pots and pans. For instance, you can easily fill up a pot with water for boiling if the basin permits. Also, the sprayer functionality lets you easily rinse dishes and keep the basin clean and clear. 
Precision
Pull-down sprayers give you more precision when washing dishes, rinsing vegetables or cleaning hard-to-reach spots of the basin. It's worth noting that they are best when paired with sinks with deep basins so that the water doesn't splash back up. However, the best pull-down faucets generally have nozzles that mitigate splashback as well.  
Mobility 
The pull-down functionality gives you more versatility than your standard faucet, allowing you to fill pots, hand wash delicates or water plants on your countertop, expanding the space you can work with. 
Best Pull-Down Kitchen Faucets
We've curated a list of the top three faucets, depending on your particular needs and eye for design. Each of these single handle pull-down kitchen faucets offer optimal temperature and water control. Additionally, brass pull-down kitchen faucets are naturally resistant to corrosion and were made with longevity in mind.  
Vesoul Pull-Down Kitchen Faucet
The Veseoul kitchen faucet features a high-arc coil spring and swivel ability that gives you maximum reach so you can rinse dishes and water plants with ease. The two-function spray with push-button ease makes it easier than ever to switch between an aerated stream to a powerful jet for dual action that leaves your pots and pans spotless. Made from solid brass, the industrial design of this spring pull-down kitchen faucets accents any modern kitchen beautifully. 
Morgana Pull-Down Kitchen Faucet
This water efficient faucet also features dual spray functionality at the push of a button while its 360 degree swivel spout gives you enhanced precision when washing. The solid brass construction is rust and corrosion resistant so the Morgana was made to last a lifetime. With a spout nearly 11 inches tall, you'll have more room than you'll ever need too, making it one of the best kitchen faucets with pull-down sprayer. 
Mira Pull-Down Kitchen Faucet
The Mira is perfect for smaller kitchen sinks. Measuring nearly 8 inches, this pull-down kitchen faucet combines timeless appeal with second to none performance. Like the Morgana it features a 360 degree swivel spout for optimal control. The single hole design of each of these pull-down faucets also makes installation effortless. 
How to Clean a Pull-down Kitchen Faucet Spray Head
Hard water deposits naturally form after years of use but thankfully, it's relatively easy to clean the spray head. We provide the steps to remove rust and rock particles which will help to improve the flow from your faucet. These steps should generally work for most pull-down faucets. 
Twisting the connector counterclockwise, unthread the faucet head from the pull out holes.  

Place the rubber O-ring on the counter and use duct tape to secure the hose to the spout so you don't have to shimmy it back through if it slips down.

Take a metal tool pick to delicately remove the plastic screen from the faucet.

Place the faucet head and plastic screen in a mixture of water and the rust/water deposits cleaner of your choice, for a few minutes.

Use gloves and a scrub brush with bristles to clean the outer end of the faucet head. 

Rinse the faucet head.

Reinsert the screen, replace the rubber O-ring, and thread the faucet head by twisting the connector back on clockwise.

Slide the faucet back into place. 

Turn on the faucet to test any differences in water flow.
The Final Touch to your Kitchen 
While you could go with another style, pull-down kitchen faucets offer the most flexibility, versatility and simply make washing an effortless, even enjoyable experience. There are even more advanced styles such as touchless pull down kitchen faucets but the sensors tend to be less effective over time and you won't be able to control the amount of water or temperature as well as with the single handle style. Whatever, your preference in material and additional features, a kitchen faucet with pull-down sprayer will become that simple change that made all the difference.