Brilliant Small Kitchen Layouts and Color Schemes
|
07, Nov, 21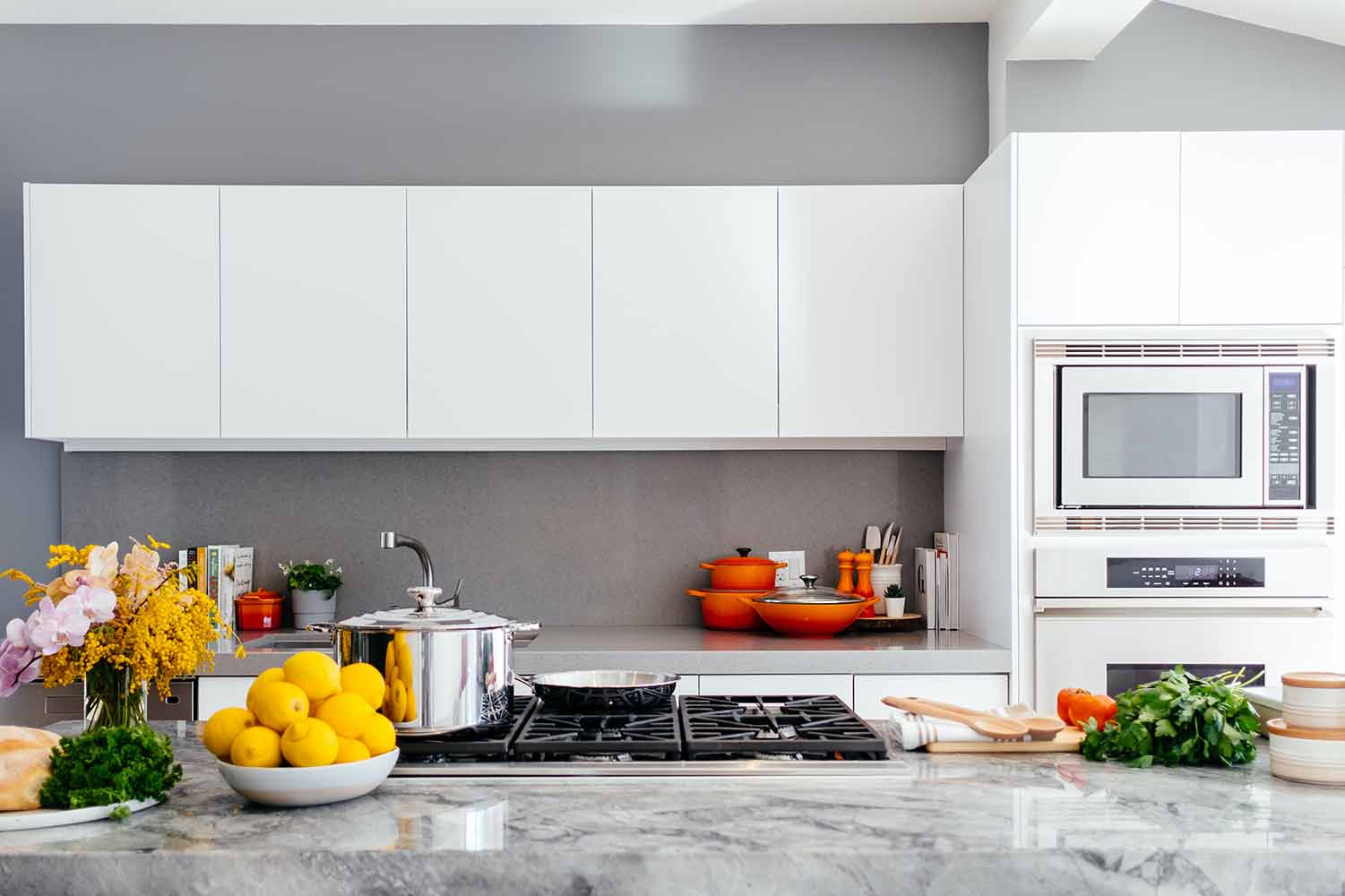 Space is an important factor, especially if you live in the city in an apartment. Every inch of floor space must be used to the maximum. Functionality and aesthetics are important and if you do a bit of research into the wonderful world of smart design tricks, you can transform even the tiniest space into a visually bigger kitchen. The secret is to utilize and manipulate the space in a compact kitchen and cleverly arrange the appliances. Other tricks include the use of color to visually enlarge the kitchen, keep it decluttered and invest in quality cabinets to make use of every inch.
10 Brilliant Small Kitchen Layout Ideas
1. Galley Kitchen
When you have a narrow kitchen, you are dealing with a compact layout and must focus on arranging it as practical and functional as possible. When the door is situated in the centre of the room, it allows natural sunlight to enter. Bright and natural-colored appliances will complement this and create the illusion of more space. Painting the walls white will make it appear wider as well.
2. Compact Kitchen
Sometimes a kitchen is so small and compact that it can leave you with many questions and obstacles on how to wisely make use of the space. Your main (and only) focus must be the functional arrangement of the kitchen furniture and appliances to create as practical usage of the appliances and space as possible. Stick to white cabinets to give it an airy and spacious appearance.
3. Contemporary Kitchen
When you consider colors for a small kitchen, black will most likely be the last one on your list as it limits space and makes it seem smaller. If you have a skylight in the ceiling, it allows a visual illusion of more space. If you do use black in your kitchen, use it as an accent color only.
4. Cute Kitchen
The arrangement of your kitchen layout and appliances are the most important factor when you are dealing with a small kitchen and very limited space. Always remember that with the right color, layout and appliances it is possible to create a visual illusion of more space. Positioning the kitchen table in the middle will create a centre of focus. Consider lighting and using white colors to create the illusion of spaciousness.
5. Small Kitchen Design
If you prefer to include colors other than white in a small kitchen, you can lean towards a bright color palette such as creamy white paired with pastel blue. This will assist in creating the illusion of space. It has almost a farmhouse or beach house charm and will brighten up your small kitchen.
6. Industrial Small Kitchen Idea
Industrial elements seem to be one of the most popular ways to go currently. Pairing a galley arrangement with industrial fixtures like a kitchen faucet against an ice white color palette, will create a modern and stylish charm to your kitchen. 
7. Light Kitchen Design
White walls, white cabinets and white appliances may be just a little bit too airy. Instead, complement white walls and cabinets with metal appliances, natural wood floors and a galley layout with glass sliding doors for that modern touch. This will allow you to transform a small kitchen into a light, airy and refreshingly modern kitchen.
8. Light and Narrow Kitchen Design
If you have the luxury of including a window as a focal point, you are halfway there. The window will allow for more natural sunlight to come in and create the illusion of a more spacious kitchen. Complement with light blue cabinets for more freshness and ensure that the layout of your cabinets is functional and practical.
9. Modern Small Kitchen Idea
Black and white checkered flooring seems timeless and can create a balance and perfect ambiance in a kitchen. Complementing the pattern with modern white cabinets will help to visually create more space. Include modern appliances and you are set to have a stylish and modern small kitchen that will impress your guests.
10. Natural and Colorful Kitchen Ideas
Include natural wood benches with colorful comfortable cushions as this will provide a warm and earthy feel and scent in your small kitchen. White paired with natural wood such as a bench or even a wooden flooring, will create the perfect ambiance. The stripes will visually enlarge the kitchen and you can even include green as a secondary color to help create the illusion of space.
For more brilliant ideas on appliances for your small kitchen, visit Eisen Home.