10 Creative Bathroom Shower Remodels
|
30, Nov, 21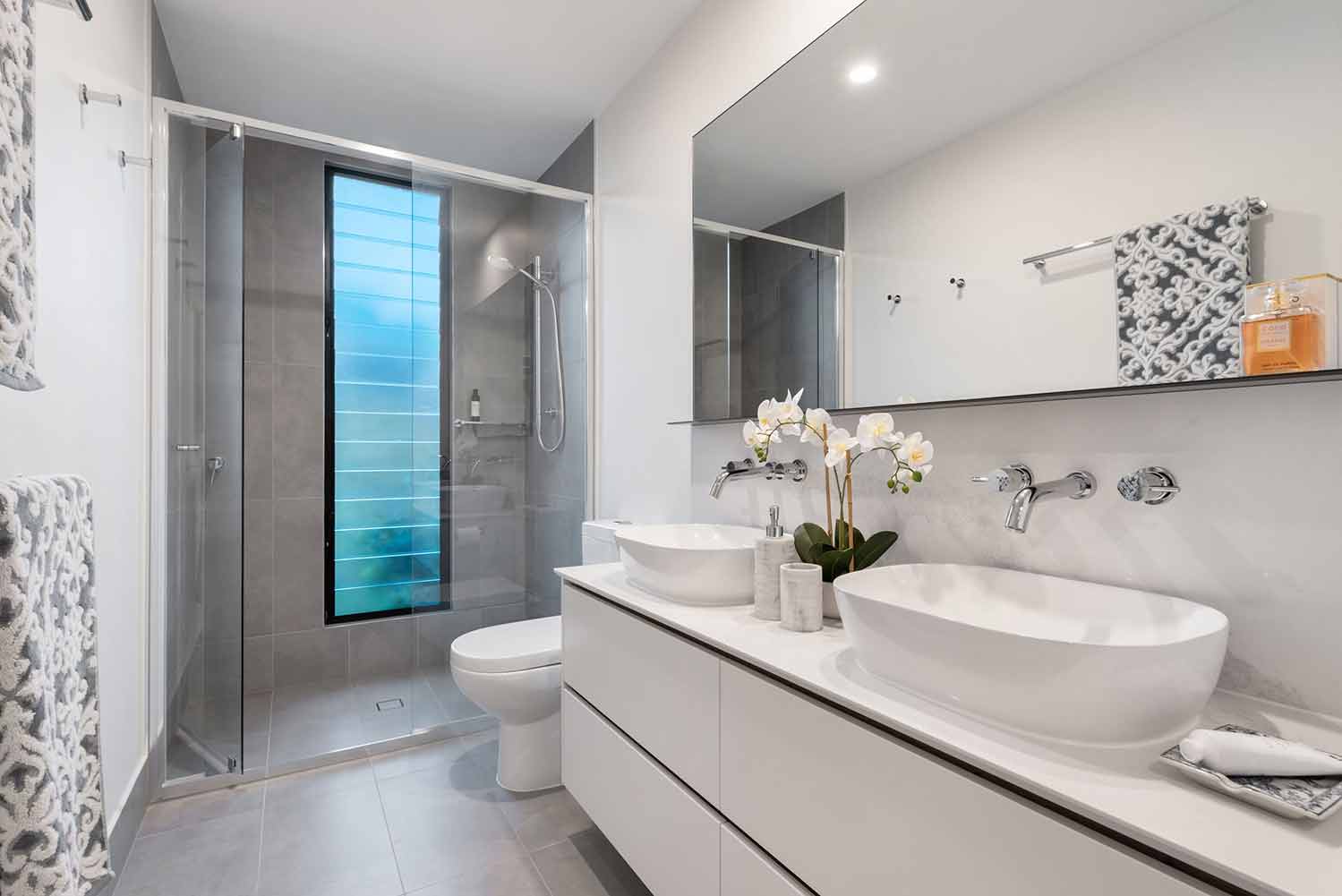 They say home is where the heart is. But what's a home without a shiny new place to wash away your worries? Yes, we're talking about bathroom showers. Contrary to popular belief, installing and designating a space for your bathroom shower does not have to take a lot of space. 
One can create a luxurious yet compact shower space in their bathrooms without having to worry about giving up too much space (and budget) at home. When it comes to bathroom showers and other vanities, remodeling is key. The wide range of options in the home decor and vanity industry have made remodeling an affordable, enjoyable, and refreshing experience. 
This article will take you through the best bathroom shower remodeling ideas, that'll give you just the right amount of inspiration you'll need to remodel your own shower space! 
10 Shower Bathroom Remodel Ideas
1. Small Bathroom Shower Remodels 
We get it - a small bathroom should be no limitation for you while you remodel your shower space. If you're looking to add a bathroom shower (or modify your current one), adding a small partition between your shower space and the rest of your bathroom should be the best option for you. 
This partition will make sure you designate part of your bathroom for your shower, without having to compromise/reduce space that's already available. Shower partitions are less chunky, minimalistic, and private, and guess what? They look great! A few extra accessories like a vanity hook board, a small sink, and a small storage shelf can be added as well! 
2. Shower Remodels on a Budget 
Someone wisely once said, "If it exceeds your budget, you'll probably end up hating it." Shower remodels are no different. The cost of a remodel depends on the size of your bathroom, the amount of remodeling needed, and the materials you use. 
Looking out for remodeling on a budget can be a bit tricky, but the secret to getting an awesome remodeling job done without burning a hole through your pocket is to look everywhere. There are various e-commerce sites, vanity and home decor stores, local shops, and other vendors that often price differently the same (or similar goods). 
Comparing these prices, asking around in community groups, and finally buying your materials at the best price is how you'll get a great (and within-you-budget) remodel. 
3.
Getting artsy 
Sure, you've been bitten by the art bug and you're ready to make a statement starting with your home. You can jazz up your bathroom shower space with lots of creative remodeling ideas. You can choose solid colors. tiling patterns, abstract designs, or even a specific theme for your space! 
Choosing a color palette, tile style, and getting an expert to put it all together is probably the best thing you can do for your shower space (trust us, we know). 
4. Go vintage 
From clothes to music, we're slowly turning to things in the past (and for good reason!) Your shower space can be turned into one of the most attractive places in your home, thanks to the huge variety of vintage styles and vanities available in the market. 
Don't be afraid to experiment with different vintage styles and decor before remodeling your shower space. Need inspiration? Turn to Pinterest! The images in this blog are just a preview of all the great ideas available out there. 
5. Turn to luxury walk-in showers
Tired of the same old, sparse shower space? Luxury awaits you! 
This remodel can include bits and pieces from the other tips in this article, along with a complete makeover of your bathroom! 
If you're looking for a long-term bathroom shower remodel, replacing your current shower fitting with more luxurious and long-lasting ones is a great move! Playing with monochrome, dual tones, patterns, and different tiling styles can make your walk-in shower space go from a 5 to a solid 10! 
6. Bathtub to shower remodel 
This trend has seen a steep increase, as people are now turning to walk-in showers and cozy shower spaces. There are various options one can try out, such as creating a walk-in shower space with a partition in the place of the bathtub. 
For those looking for a hybrid of both, attaching a hand-held shower to the bathtub, adding a shower head to the existing tub, or adding a panel and tiling in the place of a tub, and attaching shower fitting for a completely remodeled space. Replacing your tub with a shower remodel can be considered a DIY activity, but it is important to know when to call in a professional!  
7. Shower remodel with a window 
Nothing's better than a bright, well-ventilated bathroom shower space. If you're thinking of adding a window (or two, depending on the space available), keep in mind that if your bathroom shower does not already have a designated space for a window, calling in an expert is your best bet. 
This bathroom shower remodeling style is opted for by various homes, as adding a window takes up virtually no extra space in one's shower space. Shelves, hanger hooks, bath salts, and little indoor plants can be added as well! 
8. Be bold 
When remodeling your shower space, don't shy away from adding just the right amount of personality to your vanities, decor, tiling, and accessories! Like flowers? Look up floral tiles and matching vanities! Looking for bold and bright colors? There are various customization options available in the market, and experts who can help you be bold, at every step of the way! 
PS: Don't forget to use #boldsoak when you're done with your remodel! 
9. Corner walk-in shower 
Keeping in mind the shape and size of your bathroom is important. You don't want to add curved panels in a square bathroom (that does not end well) If you wish to remodel your shower space in a corner, borrow from tip 1 - adding a panel/partition (glass, grill, etc.) can add spunk to your bathroom. A cornered shower space gives you more tile room and is spacious as well. 
10.
Add cool lighting 
Your bathroom shower space can do very well with cool lamps and well-set windows, like in the image below! Consult an expert for lighting angles, intensity, light color, and other such details, for a great remodel experience! 
Shower of your Dreams 
Now that you know all the great things you can do while remodeling your shower space, what are you waiting for! Explore different styles, themes, spaces, and colors around you, and work towards making your bathroom shower remodel experience the best there is!