Top Interior Design Trends for 2022
|
26, Nov, 21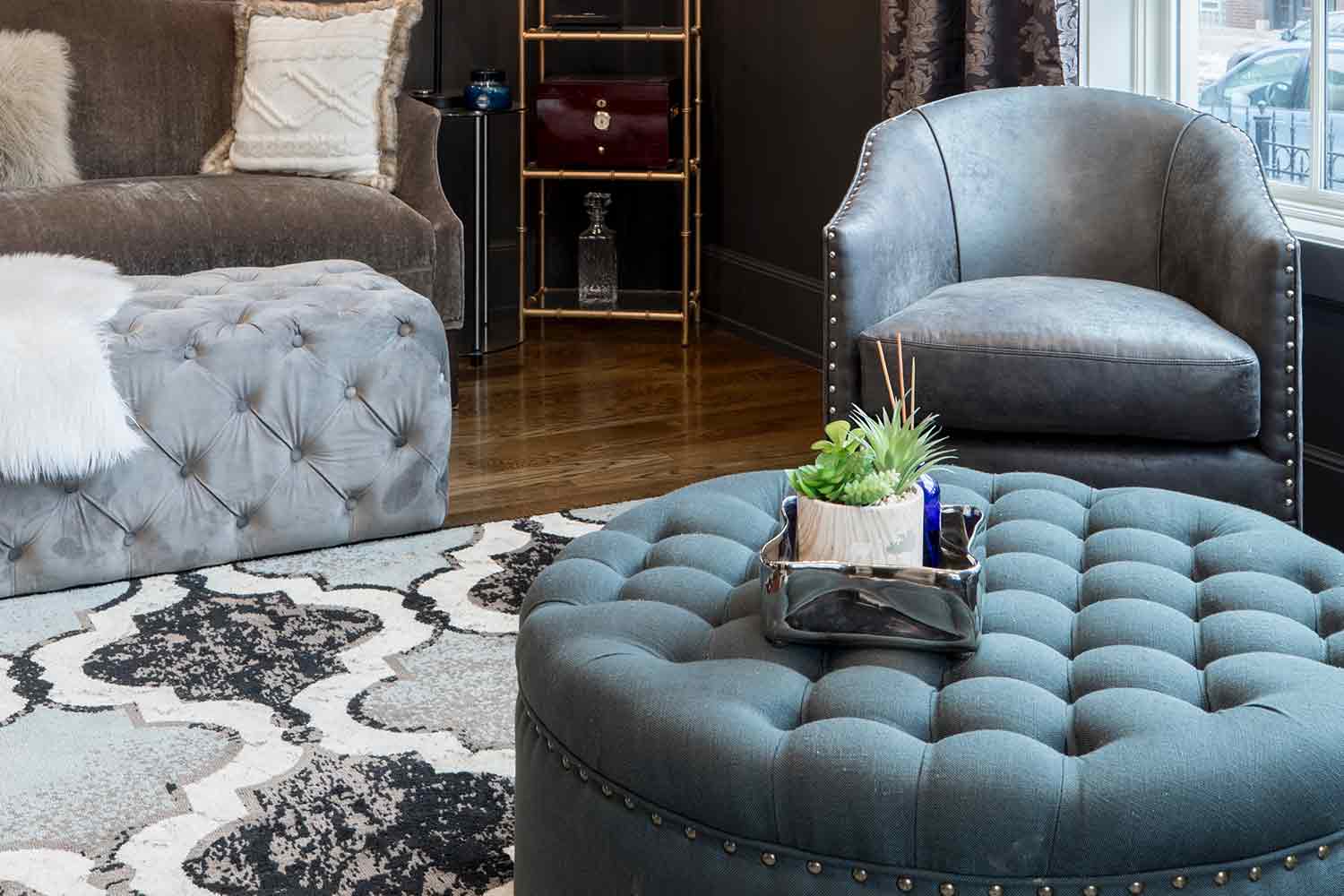 We've gotten used to less is more in our homes: minimalism, sleek, modern lines and natural, neutral colors. The top interior design trends of 2022 now are starting to lean towards opposing styles. Now new colors and accessories, reminiscent of years past, are slowly making their way back into our homes.
Top Interior Design Trends for 2022
1. Maximalism
Where minimalism has been the hot topic in interior design up until now, there's been a shift towards maximalism. Maximalism offers more options and possibilities by combining various styles and décor trends. Where less was more, it is now a more is more approach.
2. Curves
With the minimalistic approach, straight and sleek lines was the preference. Now the trends are leaning towards curvy lines: curved lines for coffee tables, couches, and chairs as well as decorations with curvy, natural lines.
3. Mixing Textures
The mixing of textures such as layering rugs is a definite trend and adds depth and warmth to your home. Add throw pillows to your bed and mix and match different textures to fit right into one of the hottest interior design trends of 2022.
4. Fireplaces
Fireplaces have become a popular addition for 2022 as well, making your home feel even more cozy.
5. Black is Back
One of the most popular colors to come back into play in 202  is black. Black furniture, appliances, fittings, finishes and décor give a bold, strong feel to any space.
6. Au naturel
Now more than ever, interior design is focused on being environmentally friendly and thus has inspired more natural elements. For instance, earthy colors such as green, which is available in many beautiful shades, is becoming a favorite for 2022. You can even lean towards turquoise, teal or deep sage to add more warmth. Warm shades of brown are also trending, and even yellow from rich mustard to marigold is making a comeback. However, we recommend you use these colors primarily as accents for décor items such as throws and pillows.
7. Patterns
Patterns, especially checkered patterns, add color, texture and depth to a possibly neutral room. Use it wisely though, otherwise the room can quickly appear chaotic. 
8. Wallpaper
Peel-and-stick wallpaper is available in various colors, designs and patterns and is a favorite interior design trend of 2022, for it's ease and versatility.   
9. Stone
Stone is another natural element that is a top interior design trend for 2022. It can be used for flooring, accessories, coffee tables, countertops and even lighting fixtures. 
10. Stainless Steel
There are many functional appliances available in stainless steel, which is a continuing trend for 2022. Fridges, freezers, microwaves, ovens, toasters, blenders, trays and various decorative items in stainless steel can easily add a modern, sophisticated touch.
11. Darker Kitchens
For many decades white has been the most popular color to use in kitchens, from cabinets, countertops to appliances and fixtures. Now, however, darker shades are making a comeback and are becoming a very popular trend to incorporate in your kitchen. Dark wood cabinets and appliances are a good way to bring this trend into your kitchen with natural materials. 
12. Multifunction Furniture
Many homes have less space as more couples are opting for apartments and smaller sized homes. Thus, incorporating multifunction furniture to serve more than one purpose is a huge trend for 2022, as they can be adapted to fit smaller spaces. 
13. Multifunctional Rooms
In the same vein as multifunctional furniture, multifunctional rooms have also become hugely popular. The focus of this style space is to have them be as functional as possible. For instance, the dining room can now multifunction as a place for the kids to do homework. The porch can double as an outside office and the dining room can be used as a conference room.
14. Investing in Outdoor Space
If you have outdoor space that can be used, why not make it a comfortable, pleasant space where everyone can wind down, enjoy social time together or just curl up with a book to relax. If you live in a cooler area, you can invest in a space heater to make it comfortable all year round.
15. Investing in Art
Investing in art may not be right for everyone, but it is a top interior design trend of 2022. Not only is it art. It is also a savvy investment. You can do your research on various social media platforms such as Etsy, eBay, and Instagram or work with an agent directly to find the perfect piece for your home. 
16. Vintage
Vintage styles and décor have been trending for a while now and will continue to be strong in 2022 as well. You can proudly display heirlooms or shop around for beautiful vintage pieces at antique shops, flea markets or online. People often prefer something that has a story and that is not simply a meaningless piece of décor. This allows you to add affordable art or vintage furniture to your home which was also more likely than not, better made than the same item today. 
For more ideas for furniture and appliances your home, visit Eisen Home.