Best Modern Bathtubs 2021
|
14, Jul, 21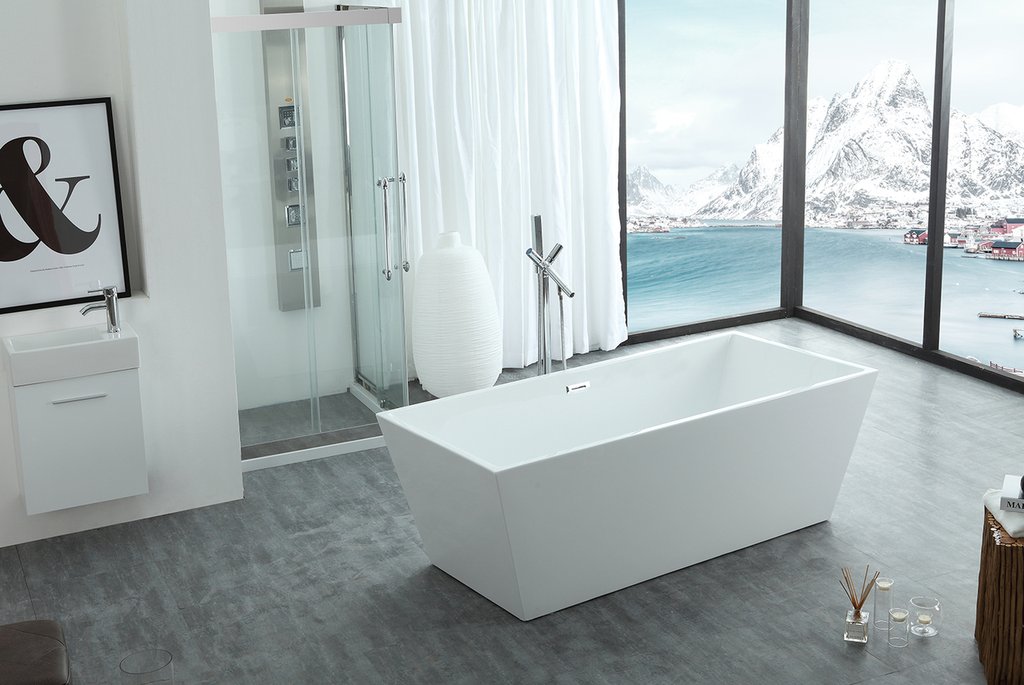 A Gracefully Modern Centerpiece
Your bathroom should be an oasis you look forward to coming back to at the end of the day. If done right, it's a sanctuary to unwind and decompress, a place you should step out from feeling new again. A gracefully sculpted bathtub can become the focal point, the piece that elevates the entire space and brings it to new heights. 
Photo: Eisen Home
Modern Bathtub Influences
Modern bathtubs, which are characterized by their futuristic appeal, come in many shapes and sizes. The most stunning soaking tubs today could be compared loosely to cubist art, some have sharp, defined lines as in the work of French painter Georges Braque, others are more softened and dreamy like a Paul Cézanne. Luxury bathrooms instill the opulence of the ancients with steps leading to sunken baths, mounted columns and luxurious materials like stone, marble and acrylic resin. Most have a cavernous depth and some, as you will see, even seem to defy the laws of gravity. We've curated this list so you can get a taste of the avant-garde opulence of the best modern bathtubs of 2021. 
Top 10 Modern Bathtubs 2021
Hammock Bathtub
The ergonomic shape of the Hammock bathtub gives the illusion of floating since it's actually suspended to the walls, hovering a few inches above the tile floors. This modern bathtub is an ode to escapism and relaxation, especially when placed before a stunning ocean view. Its elegant proportions with more depth at the center, tapers out to the sides so you feel as if you are hanging in a hammock, reinventing the way we relax. 
Chaise Lounge Bathtub
The Italian designed modern bathtub takes lounging to a whole new level. The chaise lounge chair designed with two glass panels that wrap along the length of the tub, showcases the graceful yet sharp angles of the chaise. The floor freestanding tub faucet is simple, yet sleek, much like a vintage parasol with a modern twist. Perhaps, the most distinctive feature is how the water cascades over the edge of the chaise to the floor, giving an uninhibited, natural touch to an otherwise futuristic piece.
Athena Rectangular Freestanding Tub
The original freestanding tubs were the iconic gold finished clawfoot tubs of the 1800s. Opting for a more modern aesthetic, the clawfoot eventually became a thing of the past, and designers started to experiment with a range of shapes from angular and rectangular to circular and oval slipper styles. The most popular freestanding tubs have been rectangular shaped, with sharp edges and clean lines, like the Athena from Eisen Home. The slanted back of the Athena invites you to a deep rejuvenating, therapeutic soak and gives you a spa-like experience from the comfort of home.
Hera Angular Double Slipper Tub
Similar to the Athena but more curvaceous, the Hera was inspired by the Greek goddess by the same name. This large freestanding tub measuring 71 inches long is an expansive escape with gracefully curved lines that make it effortless to sit back and relax. The double ended slipper tub style makes it easy to stretch out comfortably or share a relaxing soak with your partner, much like the goddess of marriage and family would.   
Iris Freestanding Bathtub
Another widely popular freestanding tub style is the oval slipper style. The graceful, sculpted shape of the Iris, makes it look featherweight but it's as strong as can be, constructed from durable acrylic. It's high walls taper out, as if in welcome invitation. 
Diamond Bathtub
This black diamond modern tub with gold accents by Maison Valentina is a showstopper to say the least. With the facets of a diamond, this oval tub is truly unique, stunning against marble floors and abstract couture wallpaper alike. 
Marble Sunken Bathtub
This all marble luxury bathroom features a set of steps that lead up to a stunning marble sunken bathtub. This opulence of this bathroom is further elevated by a large skylight directly above the tub, inviting natural light into the scene.
Sunken Bathtub with Garden View
This sunken bathtub may not be as luxurious in feel as the last but facing a two-paneled glass garden view, it's perfect for homeowners with gorgeous landscape design. 
Compartmentalized Bathtub
If you prefer to share a relaxing soak with your partner but with extra leg room, interlocking compartmentalized bathtubs let you do just that. You like it hot, he likes it warm, well you don't have to compromise anymore. You can still enjoy a luxurious soak together. 
Jetted Bathtub with Home Theater
While most people imagine peace, quiet and serenity as part of a soothing soak, for others it's escapism. For those looking for a place to unwind, perhaps watching a good movie with the massaging jets working out the kinks in your back, is the perfect end to a long day. This modern sunken bathtub with jets and soft head wrests facing a home theater is just that. 
What's a soothing soak to you?
As you can see, modern luxury bathtubs come in a wide array of shapes, materials and styles. For some, the tub's juxtaposition with an ocean or garden view is most important. For others, luxury means powerful jets, a home theater and an electric fireplace. For most, it's the bridge between beautifully modern design, comfort and functionality that's all your own.