Bathroom Remodel Ideas 2021
|
29, Jul, 21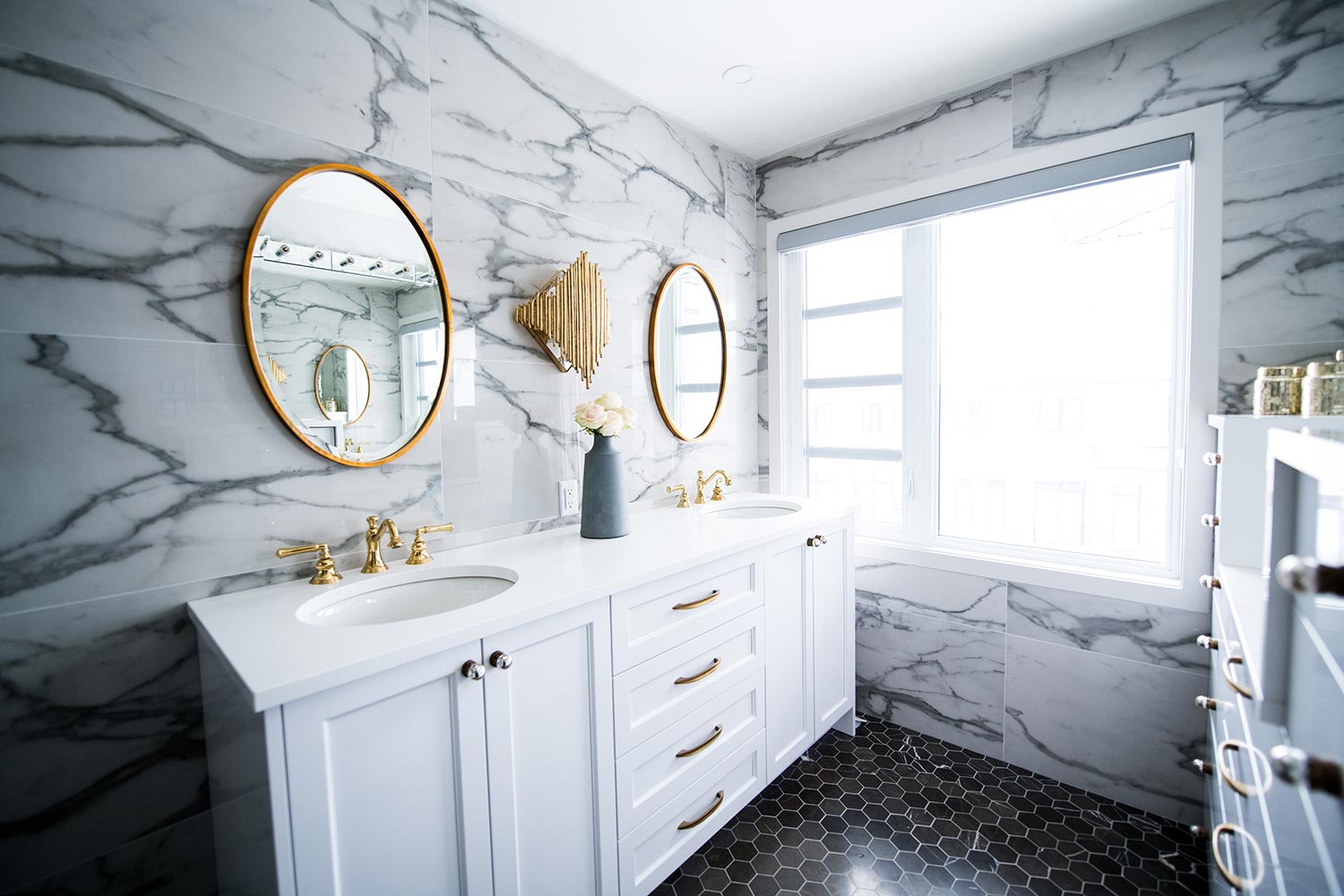 Bathroom Remodel Ideas 2021
Remodeling a bathroom, along with the renovation of a kitchen, is one of the most expensive home improvement projects but it also adds a lot of value to your house. The fact that this is an expensive renovation, does not mean you have to live with an outdated bathroom that no longer fits your standards or style. There are many ways to redo your bathroom and give it a fresh new feel with an acceptable budget. Let's look at ways to limit your expenses as well as current bathroom remodel ideas for 2021.
Tips to Limit Your Expenses
Plan Ahead
Not planning exactly how you want to remodel your bathroom within the available budget can cost you dearly.  It's equally important to remember to make provisions in your budget for unforeseen and unavoidable expenses that may come up. Decide beforehand what you want from your bathroom and the look that you have in mind. Think layout, plumbing and light fixtures so that when you get started, you know exactly where to shop for the best prices.
Refresh Rather than Remodel
This is one of the best ways to save by simply changing some of the fixtures, tiles, accessories, flooring and lighting, while leaving the basic layout unchanged. This will also limit labour costs.
Do it Yourself
Nearly 50% of the expenses when remodeling account for labour costs. Do as much as you can yourself if you have the necessary skills and only call in assistance where you need expert help.
Reuse the Existing
Some ways of saving include refurbishing the bathtub, shower enclosures, sink, toilet, cabinetry, walls and floors.
Search for Bargains
Choose cheaper alternatives for what you want to replace and achieve the look you're going for for less. Shop secondhand to save on materials and ensure that you have plenty of time to find what you want. You can also source from flea markets, antique stores, yard sales and even online to find vintage materials and light fittings at bargain prices. Often, the holiday season is the best time to find remodeling materials on sale.
Bathroom Remodel Ideas on a Budget
There are cost-effective alternatives for nearly every part of your bathroom.
Walls can be repainted to keep your costs down instead of replacing tiles. Painted drywall or wood are also good alternatives.
Flooring can vary between laminate, vinyl, wood, ceramic tiles and even stone tiles. You can refurbish and replace the grout. If you like the look of stone, you can often get the same result by using a cheaper ceramic.
Give your bathtub a proper cleaning, refinish or fix surface damage for a brand new looking bathtub.
Shower enclosures can be repaired, cleaned and regrouted. You can replace them with fiberglass or acrylic, or opt for porcelain or ceramic tiles which require less grouting and thus less labour.
Tub and shower hardware are the easiest appliances to replace to give your bathroom a whole new look and feel. Replace the shower handles, spout and shower heads to add the finishing touches to your new bathroom.
The most affordable countertops are laminate, ceramic or glass tiles.
Cabinetry offers the ideal opportunity to be creative by refinishing or repainting it. Open shelving is a cheap way of storage and all available space can be used which is ideal for small bathrooms. You can configure size to fit the available space and use laminate or thermofoil cabinets as they are easy to clean. Pine, oak, maple or alder are also an option and can be painted or stained if you prefer a darker color.
Replace the toilet seat with a new one or even a wood seat for a new look instead of replacing the whole unit.
The sink can be repaired or replaced.
Unique Bathroom Remodel Ideas
Black accent pieces including furniture, ceramicware, brassware and accessories add a whole new look to your bathroom. It is one of the top colors along with pink for bathroom remodel ideas 2021. 
Handcrafted centerpieces make a great impact and are a timeless addition. Pair with a freestanding bathtub or pedestal basin to create a breathtaking focal point.
Botanical bathrooms are the ideal way to embrace nature, enhance wellbeing and create a spa-like feel to your bathroom. Add natural wood, waterfall bathroom faucets and medium sized hanging plants to round off your bathroom.
Master Bathroom Remodel Ideas
Sanctuary
Create a soothing spa sanctuary with a space that provides mental and physical wellbeing, which cleanses you, improves your health and where you can relax. Eisen Home's line of freestanding soaking tubs are as luxurious as they come constructed from nonporous acrylic resin that's durable yet elegant with a gorgeous finish that does not dull with time. Add candles and hanging plants to create the perfect relaxing environment and complete your bathroom remodel.
Luxury
A popular trend in 2021 is modern deluxe with metallic finishes, luxury stone surfaces, ornate basin stands and a bold signature style like you are bathing in a 5-star boutique spa. Eisen Home's bathroom faucets further add to this flair. These faucets are stain and rust resistant, reducing the environmental footprint while maintaining optimal water pressure. You can choose from a variety of styles such as vessel faucets, undermount, waterfall or wall mount bathroom faucets.
There are also an array of beautiful finishes to choose from such as polished chrome, brushed nickel, matte black, brushed gold and polished rose gold. This monochrome scheme pairs well with marble. You can also coordinate this look with color-matched mirrors, ceramic lever handles, soap dishes, tumblers and towel rails.  
Splash of Color
The current trend in bathroom remodel ideas for 2021 includes minimalistic and modern designs with a luxurious appeal throughout the room to create the perfect retreat. You can play and experiment with colors, but it's best to keep the main colors as neutral as possible and add splashes of color to your appliances, décor and finishes instead. For instance, you can add vanities and framed mirrors in bold styles and colors to add a playfulness to your bathroom. 
Remodeling with Eisen Home
Remodeling your bathroom does not have to cost a fortune. With good planning and creativity, you can recreate your retreat on a small budget, while adding a lot of value to your home. Eisen Home offers a variety of timeless styles that adds flair to your bathroom instantly.