What are Exposed Shower Systems?
|
30, Jul, 21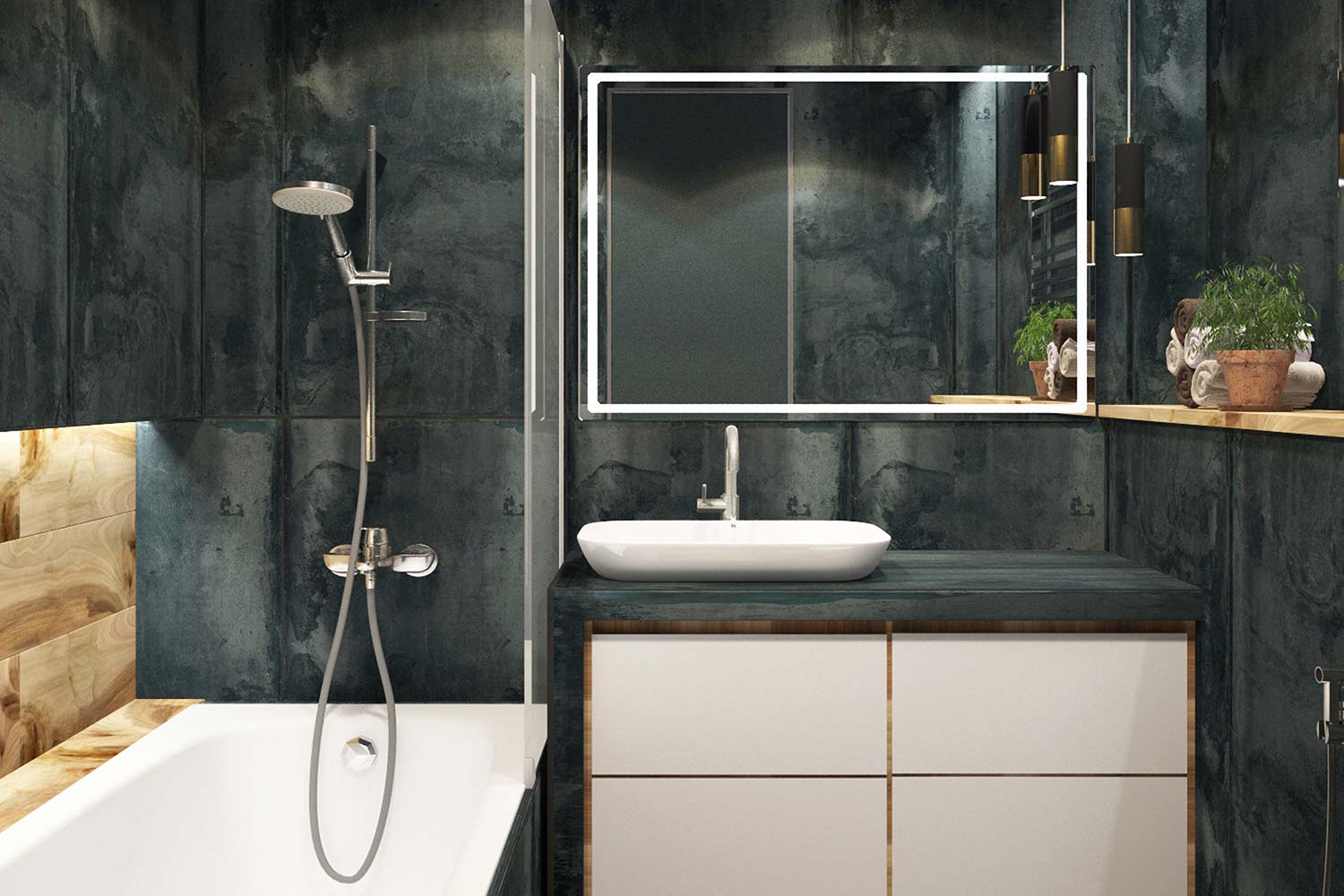 The Exposed Shower System Trend
One of the newest trends in interior design is the exposed shower system. This trend is so popular because it's a modern and elegant way to upgrade the look of your bathroom without starting from scratch. The finished product is stylish and gorgeous and is an uncomplicated, effortless way to transform your bathroom into your very own home spa.
Some of the best designed hotels and restaurants have exposed ceiling designs where the pipes, beams and utility lines are all exposed. The end product is a modern design with an industrial touch. Again, you can go for a vintage or industrial feel, but the exposed shower system adds that sophisticated modern twist that is currently very popular. This improves the look and makes for a spectacular transformation.
What is an Exposed Shower System?
Exposed shower systems normally include a shower knob, a visible pipe to the shower head and to the shower head itself. A handheld shower head or any other attachment may also be available. The complete exposed shower system mounts on the wall of the shower with all standard internal workings of the shower just mounted externally on full display. This gives it a modern, industrial look and feel. In normal bathrooms the shower system is barely visible and concealed within the walls, blending into the background. With exposed shower systems, the plumbing is a conscious and visible choice of a modern design and can be used both indoors and outdoors or in situations where in-wall plumbing poses an issue.
Where is an Exposed Shower System Installation Ideal?
With a hand shower and exposed thermostatic valve, this is quite a simple installation. You can also opt for this as an option in your bath. But if you consider modernizing your shower, especially in an extra-large shower area, the exposed shower system will provide the necessary flair with its state-of-the-art unit, which includes an exposed thermostatic valve and overhead shower (and possibly hand shower).
Benefits of Installing an Exposed Shower System
Easy installation - These exposed shower units are a simple solution that make a big change to your bathroom. It normally can be installed onto the existing connections as the dimensions usually are standardized throughout the industry. It is even an option should you be renting, as it can be installed easily and quickly dismantled again.
Single or two levered handles - You have a choice between one or two levered handles to control the water in the shower with either a mixer valve or flexible two-handled valve.
Thermostatic valves - Metro-exposed thermostatic shower systems have valves to help to halt or control the flow of your shower, while the thermostatic controls regulate the water for ultimate temperature performance, ensuring that you have the best possible shower experience in your exposed shower system. The valves protect you from heat with the highest of safety standards, insulated body with rounded corners and adjustable temperature limitation.  
Options for Exposed Pipe Shower Systems
With this trend taking the world by storm, you can also opt for a black exposed pipe shower system, an exposed pipe shower system in oil rubbed bronze or an elegant and classic antique brass exposed pipe shower system.
The most exposed shower systems have matching appliances like a matching basin or bath fillers, to coordinate a seamless look in your bathroom. Additionally,The most exposed shower systems with handheld or overhead can be installed straight onto existing connections to match everything perfectly.
Another Popular Trend: Rain Shower Systems
Much like exposed shower systems, rain shower systems are becoming an increasingly popular trend not just for their modern aesthetic, but for elevating the spa experience to even greater heights. 
Eisen Home Rain Shower Systems
The Narmada 3-function Rain Shower System
The Narmada shower system comes with a shower head, hand shower, tub spout and valve trim in a polished chrome finish. It will transform your bathroom into a modern masterpiece with its sleek and streamlined square design. The 8-inch square shower head allows a rain spray pattern to provide more coverage than traditional shower heads. Calcium and lime build-up on the soft silicone nozzles can easily be wiped clean. The matching valve trim with lever handle allows you to control water temperature and volume. It has simple installation instructions and can easily be maintained. It is UPC certified and has a 2-year Limited Manufacturer's Warranty. 
The Narmada 2-function Rain Shower System 
This system, with an adjustable 8-inch shower head, has a hand shower and valve trim in a polished chrome finish. This single function shower system with its rain shower system spray pattern provides even coverage and a relaxing feel from top to toe with its simulated feeling of rainfall. Its single lever handle easily controls water temperature and volume to add to the experience. It can easily be cleaned and has outstanding performance, simplified installation and easy maintenance. 
Modern Appeal 
Whether you prefer a rain or exposed shower system, both make a striking modern accent. If you are interested in other types of shower systems, the Eisen Home collection is stunning, timeless and will last for years to come.