Dreamy Master Bathroom Remodel Ideas
|
21, Oct, 21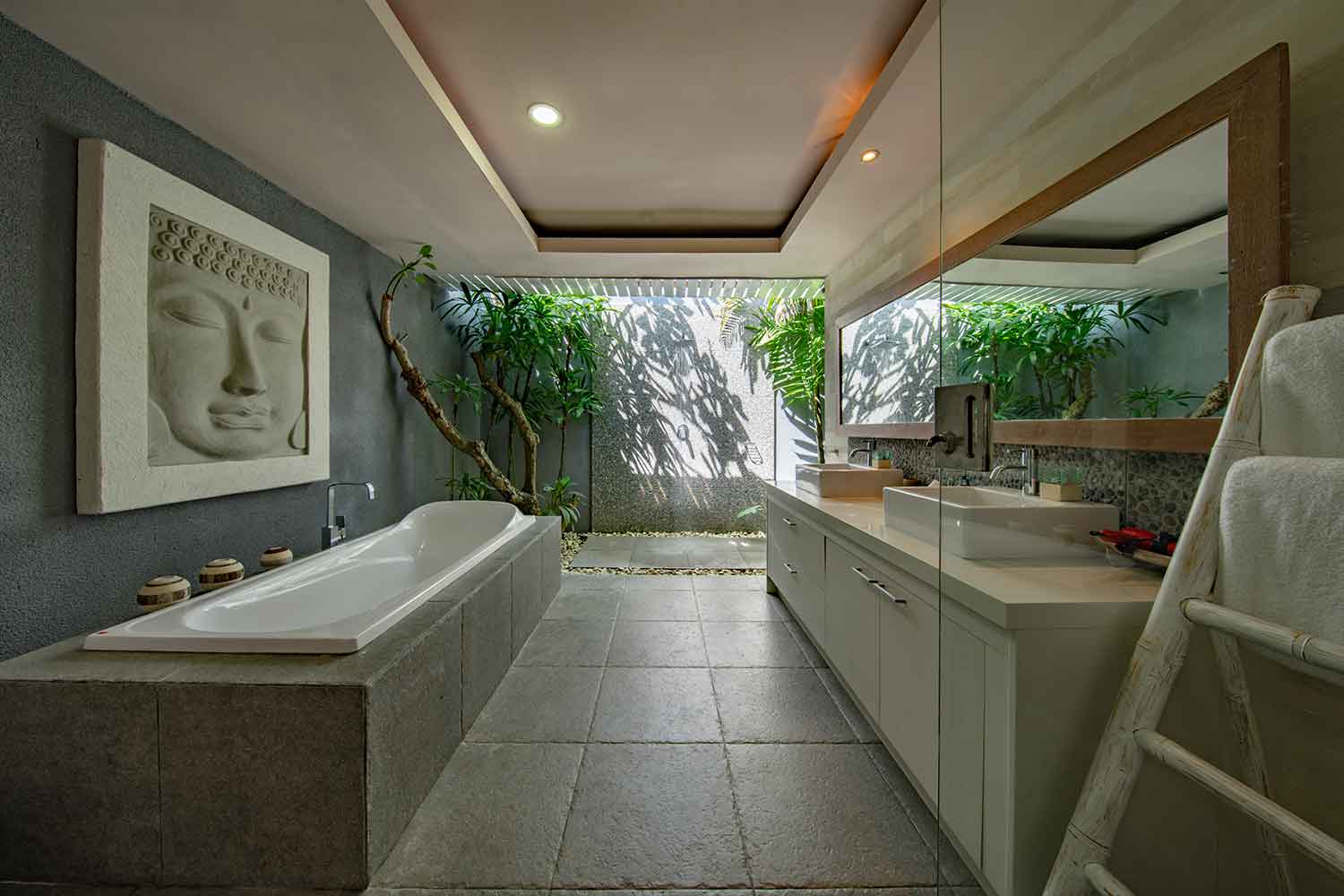 Think big, this may be the opportunity to create your dream master bathroom. Imagine a luxurious bathtub, a  spacious spa-like shower with rainfall shower head, marble floors, a beautiful vanity, exquisite faucets and breathtaking lighting.
You can create a transitional bathroom where you mix up traditional, modern and contemporary styles or start from scratch, depending on your budget. Use this opportunity wisely: If you are doing a full renovation or starting from scratch, create a dream master bedroom retreat where it is not only a bathroom, but a luxurious getaway experience every time you're in it. If space is an issue, decide if you want a tub or a spacious walk-in shower that can give the bathroom a whole new feel. Also, keep practicality in mind according to your personal preference.
10 Dreamy Master Bathroom Remodel Ideas
1. Wooden Vanity Centerpiece
Usually, storage is a big headache as it's normally never enough, resulting in bottles and accessories everywhere. Consider adding a wooden bathroom vanity to have additional space to store the essentials. Wooden cabinets can work especially well in a spa-style bathroom where you use blues and greens, a stone sink and tiled floor. You can even make the shower wall the accent wall using a shade darker in contrast with the rest of the bathroom. There are many different styles of bathroom vanities so do your homework to see which will suit you best. If space is limited, consider floating shelves which will create the illusion of space. In terms of the color scheme it's best to use neutral, natural shades for the cabinets. You can even use the color of the season for small accent pieces in the bathroom, which you can switch out occasionally. 
2. When Size Matters
If you have a lot of space, accentuate it by including a large freestanding bathtub and a big walk-in shower. Allow your imagination to run free and think of exposed wood beams, granite tiles, dark wooden cabinets, colorful rugs and large mirrors to create the feel of even more space. You can use LED mirrors, inset mirrors on the wall and door panelling and cleverly placed lighting to create airiness and more space.
3. Divine Seating Area
If it is a spacious bathroom, you can use it as a space to relax too with a stylish seating area. Include modern, but comfortable chairs, vintage rugs and plants to create a sanctuary within your bathroom. You can also build a window seat if you have a deep-set window. Not only does it add character but can be used as a storage space.
4. Walk-in Shower Focal Point
Not all people prefer to bathe, so use your floor space and build a huge walk-in shower with glass doors instead. Invest in a luxurious shower head such as a rain shower system that includes a hand shower for the ultimate showering experience.
5. Bubbly Soaking Tub
For those that prefer to soak off a long day and have enough space, it's worth investing in a freestanding bathtub. This style tub adds elegance and a focal point to any bathroom. Include natural colors, plants, modern or vintage lighting and rugs to complete the look.
6. Reclaimed Rustic Elements
With a rustic/contemporary style, you can mix and reclaim. You can install reclaimed wood flooring, a driftwood mirror, rustic lighting, neutral-colored rugs (beiges and browns) and a refurbished vanity with a stylish vessel sink and modern faucet as your focal point. You can bring in color with towels, decorative accessories or complete the look with a few plants.
7. Striking Lighting Fixtures
In a simple, minimalistic, white styled bathroom you need a focal point so that it's not just another plain white bathroom. Include a striking chandelier or even artistic piece. This works best if you have a high ceiling so you'll need to keep in mind the height for a suitable fixture. Include marble, white or textured tiles, matte floor tiles, granite or concrete countertops, and a modern freestanding tub with chrome faucets to complete the look.
8. Skylight for Natural Light
You can have windows, mirrors and light fixtures, but installing a skylight makes the ultimate impression. This will create space, allow in natural light and make your bathroom feel larger and open, creating a welcoming vibe.
9. Solar Water Heater
While this list focuses more on the aesthetics, functionality is just as important. That said, if you're environmentally conscious and want to also save money on your electricity bill, having a solar water heater may be ideal for you. 
10. Décor
There are hundreds of ways to demonstrate your personal style with décor in your master bathroom from color, candles, rugs, mirrors, art, towels, plants, vanity, cabinets, lighting, tiles, a dreamy bathtub or spacious shower. Everything will personify your taste and lead to creating a specific mood for your bathroom.
Your Bathroom Oasis
With so many options out there it can be hard to know which style to go with. It's key that you consider how you want to use the space first. While the aesthetics will bring your bathroom oasis to new heights, function and practicality is at the core of what truly makes a master bathroom dreamy in the first place.